Mako Technology Now in Muskegon
Posted: Apr 8, 2018 | Last Updated: Jan 22, 2020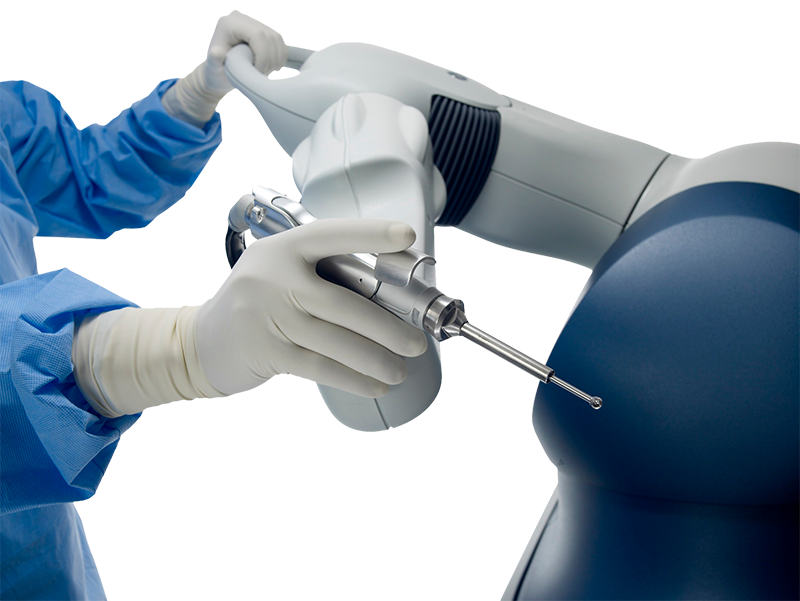 Orthopaedic Associates of Muskegon now offers joint replacement using the Mako Robotic-Arm Assisted Surgery System. Eight of our surgeons are trained to perform robotic-arm assisted partial knee, total knee, and total hip replacement procedures using the Mako System.
At OAM, we understand that you want to know what to expect from your joint replacement experience. Please reach out to us if you have any questions.
What Is the Mako System?
This system provides you with a personal surgical plan based on your unique anatomy. First, we take a CT scan of the diseased hip or knee joint. Then we upload the scan into the software, which creates a 3D model of your hip or knee. We use the 3D scan to plan and assist your surgeon in performing your procedure. In the operating room, your surgeon follows your personalized surgical plan while preparing the bone for the implant. The surgeon then guides the robotic-arm within the pre-defined area.
In a lab study, the Mako system displayed exact placement of implants to a unique surgical plan. This study also showed that Mako helps protect the soft tissue around the knee. Other studies confirmed the precise placement of implants and soft tissue protection. What this means is that Mako helps provide better and more predictable results.
Is the Mako System Right for Me?
Each patient is unique, and can experience joint pain for different reasons. For some patients pain comes and goes, while for others it remains constant. Some patients feel pain with movement, while others hurt after a period of rest. Where you feel pain can also be a factor in our treatment plan. We need to know the reason for your joint pain so that we can discuss all your treatment options. Partial or total joint replacement is very effective in reducing pain and joint degeneration, but isn't for everyone.
It is common for patients to try medication and other methods to treat their hip or knee pain. If those options don't give you enough relief, the Mako system may provide you with relief from your joint pain.
We Can Help
Please contact us if you're considering total hip, partial knee, or total knee replacement. We'd love to discuss if Mako is right for your treatment plan. Request an appointment online or call our office at 231-733-1326.